It's no secret that I love reading.
And I read a lot.
Even though I didn't quite meet my (very lofty) Goodreads reading challenge this year—publishing two books and moving to another country will do that to you—I made my way through quite a few books, several of which made me feel lots of feelings. Sometimes in large quantities and in public.
Thus, my book superlatives.
Books That I Hugged Whilst Reading.
I can't say enough good things about Landline. Or about Rainbow Rowell, who is lovely. All of her books are wonderful and Landline—which is not YA, just to be clear—is such a good time. It made me laugh out loud many, many times and made me cry a bit here and there, but mostly, it made me happy. There were many times that I had to stop reading because I was so delighted by a sentence or a piece of dialogue that I would actually stop and hug the book. And then would hurriedly keep reading until the next book hug.
Islaaaaaa! And Josh! The final book in a trilogy of companion novels (Anna and the French Kiss and Lola and the Boy Next Door being the other two in the series), Isla was a joy to read. This book made me hug it a whole bunch, mostly out of happiness, but sometimes because I wanted to give Isla a hug. (I realize she isn't real. But. You know what I mean.) And toward the end, the book ricochets into a huge love fest that had me actually shrieking with glee. My dog wasn't amused. But I was!
Book That Made Me Weep Uncontrollably on an Airplane.
Champion is the final book of Marie Lu's incredible Legend trilogy. I did not expect it to give me cryface but it so did. For the first three hours of a fourteen hour flight, no less. But the cryface was the best possible kind—and I'm probably a little weird in that this book made me cry so much. But, it just really got me in the feelings, you know? There were a few sections I felt particularly in tune with, emotionally, and Lu so hit them exactly the way I feel them that I wanted to yell YES, THIS IS EXACTLY IT whilst crying at the same time.
Book That Made Me Laugh the Most.
This book, y'all. It is so good. And so funny. And so smart. Just so many things. The main character is a genius and precocious teenager who is attempting to understand love, both because she disapproves of her sister's love life and because she's trying to reconcile her own. Which sounds kind of deep, but I promise that Love and Other Foreign Words is a hilarious good time.
Book That Left Me Speechless.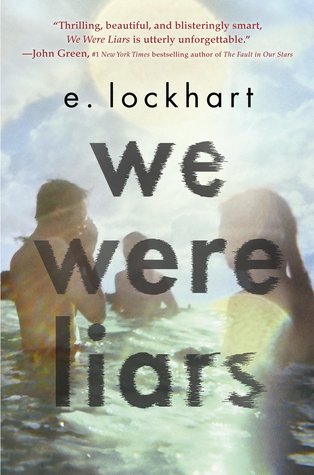 When I finished reading this book, I very calmly set it down on the nightstand. And then stared straight ahead. Boyfriend was all, "You okay?" and I was all, "I don't know." We Were Liars is gorgeously written and masterfully executed. But other than that, I still don't really know what to say about it.
Book that Gave Me the Worst Book Hangover. 
I've been on a bit of a historical fiction kick lately, and had heard great things about Brazen. It follows the (yes, fictionalized) story of Mary FitzRoy, a fourteen year old girl who is married to Henry VIII's bastard son, and serves in Anne Boleyn's court. Since we know what ultimately happens to Anne Boleyn, it's no shock that Brazen is full of suspicion and rumors and jealousy and confusion and tragedy. But what shocked me when I finished it was how much Mary FitzRoy's story stuck with me. I think about her often. Because she was a real person who really existed and really went through the events that Brazen chronicles. I just can't imagine. And she somehow remained sane and strong and stood her ground, and I am basically in awe of her, but also so heartbroken for her and what she had to live through.
Book That I Was Surprised I Related To So Strongly. 
So, I picked Sweet Filthy Boy up because I was looking for a guilty pleasure to lose myself in for a bit. What ended up happening was that I deeply identified with the main character, Mia, who moves to another country for a lawyer. Which is my life right now. It was like the ladies who make up the writing duo of Christina Lauren were inside my head and could hear my internal monologue about what moving to a new country feels like, how you think about it and yourself, and all of the insane emotions that swirl around inside you when you're hit with the reality that you're living somewhere you don't know at all.
Book That I Recommended Most.
This is largely selfish because it's set in Singapore and I moved to Singapore this year. However, the book is really good! It is fiction, but it provides a good sense of how Singapore operates—for ill and for good.
Book I Wished I'd Written  
In addition to all of the books mentioned above, I really wish I had written Open Road Summer. It's about the best friend of a teen country music star. I mean. C'mon. But more than that, it's beautifully written with laugh out loud moments and punches to the gut and a decent amount of swooning. ALL OF THE THINGS.
I hope that everyone is squeezing as much joy as they can out of the last days of 2014! Have a merry and bright holiday season full of Charlie Brown dancing and boozy hot chocolate!