Bethany's Super Awesome Holiday Gift Guide.
December 9, 2014
Hey there.
It's me.
It's been a while. How are you?
I'm so glad to hear that! I'm doing pretty well. The move to Singapore has been a little crazy. I'm writing a lot—I have two books on sale now and am working on the third!—and looking for a job. I've also traveled some, tagging along with Boyfriend on his work trip to London and then we spent a few days in Portugal.
It hasn't been a bad gig, I will admit.
What's that? Oh, no, I actually haven't done any Christmas shopping because, well, lots of reasons. Have you done any?
Oh, you're still shopping? How's that going?
Yeah, I figured. There's always those people who are kind of hard to shop for. Luckily, I fall into that category myself—or so I've been told—and I have some suggestions for you!
*Public Radio Tote
Everybody loves a tote bag! Especially your friend who is into public radio/podcasts. You should get this for them. If it seems like a paltry gift, put some other items in it. No wrapping required!
*Mod Hero Prints
Everyone has a friend who loves superheroes and/or pop culture. Because superheroes and/or pop culture are awesome. And Rogan Josh has a shop at Society 6 full of gorgeous, fun, superhero prints. You can even get them on a throw pillow or iPhone case or tote bag! There are tons of options available, and these prints are really great.
*Fun  Mugs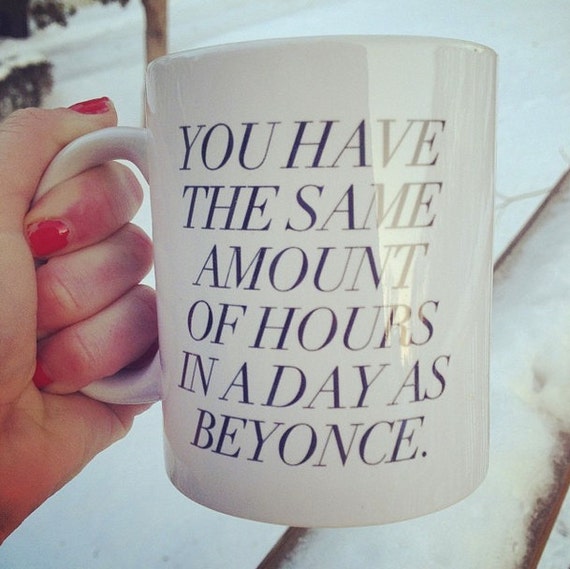 I am a sucker for mugs. You can make cakes in them! You can eat cereal out of them! And, obviously, you use them to drink delicious beverages. The mug pictured above comes from Sweaty Wisdom on Etsy, whose store is generally great. I love also pretty much all the mugs from one of my favorite bookstores, The Strand, (particularly the Don't F*ck 'Em mug) as well as this one from Kate Spade, and this one from C Wonder. Mugs forever!
*POP Vinyl by Funko
These cute little figures are a great way to personalize a space be it a bedroom, office, or the dash of your car. There are tons of them, running the pop culture gamut from Game of Thrones to Arrested Development to Disney characters. There is literally one for everyone, no matter what they're into.
*Homemade Hot Chocolate Mix
Don't have a ton of cash this year but want to do something for your friends/coworkers/extended family? Get thee to the kitchen and make a gift! You can do cookies or brownies or peppermint bark if you'd like, as those are always crowd pleasers. Last year I made hot chocolate mix and spent approximately $30 on the ingredients and the Mason jars. If you want to dress these up, it'd be easy to add some, ahem, cheer with the airplane sized bottles of Kahlua, Baileys, or Fireball. Easy, cheap, and delicious!
*The Gift of Fire
Well, the smell of it. I love the smell of a campfire and this candle from Henri Bendel is perfect for those cold winter nights when camping is just not in the cards.
*Rechargeable Battery Packs
Rechargeable battery packs for portable devices are pretty much the most useful gifts in the world. You can get them at a variety of places, including big box stores (Walmart, Target, Best Buy etc.), as well as online. Battery life for all!
 *Books!
Books are the best. Buy them for people.
I recommend these ones.
And, if you're able, swing by your local independent bookstore and show them some love by buying some books.
This book is hilarious and heartfelt and wonderful, and sort of reminded me in its tone and humor of Gilmore Girls.* Probably more for lady readers than most gentleman readers I know, but I wholeheartedly support giving this book to a dude.
*Please note: This story is nothing like the story of Gilmore Girls. Just the tone and the humor.
This sucker mixes elements of science fiction and dystopian and fantasy and a smidge of YA, and it is great. It begins with a couple emotional punches to the gut and is fast-paced, action-packed, and un-put-down-able. (I made that word up. I'm good with it.)  Bonus: the second book in this trilogy comes out January 6th.
It occurs to me now that I could probably just write an entire gift guide of books. But I will reign myself in and refrain from doing that here.
ANOTHER TIME PERHAPS.
However, it would be remiss of me to not take this opportunity to plug my own books. I know, you're groaning and rolling your eyes, but an indie author gotsta do what an indie author gotsta do. Don't hate the player hate the game. Every day I'm hustlin'. Etc.
So, here goes. My books, Taking Flight and Making Headlines make the best gifts everrrrr! They're $2.99 each, which is really a deal—two books for less than $5.00. And you get to support an independent author who is currently searching for a full-time job.
It's Christmas, after all.